When your business relies on shipping large, heavy, and awkward industrial items, getting these valuable pieces of equipment delivered safely and on time is crucial for your success (and the success of those depending on you). Adhering to industrial shipping procedures must be a priority for you and the shipping outfit you use.
To ensure the best outcome, your assets must be custom packaged, crated, and shipped to meet all requirements, including industry standards, your personal specifications, and the shipping company's high standards.
Experience, knowledge, and a variety of crating solutions will help pave the way to an effective shipment.
What You Need to Know About Wooden Crates for Your Business

For your business to succeed, it must have secure, responsible, and timely shipments for your equipment, parts, and products. With the proper cushioning, packaging and crating, a trusted, professional industrial crater should ensure your project runs smoothly and stays within reach throughout the journey, no matter where it is.
If you need assets stored, they should be crated and packaged appropriately to keep them safe while in a storage facility. Budget and ROI are important to your organization, so you'll want to be sure to package it the right way the first time.
Working with an established industrial shipping company means you get:
A knowledgeable team to handle expert crating, packaging, and shipping
Comprehensive solutions that meet your requirements and goals
Security in knowing your assets will arrive safely
An accountable and responsible team
Expertise in spec-driven technology to maximize your shipment's success
High-end equipment, software, and materials to design and engineer protection for your assets
Your industrial shipping company should also offer:
Having various services to meet your specifications will give you peace of mind in knowing that your assets are meticulously cared for. Learn how freight is secured inside a sea container for overseas shipping.
Industries That Need Industrial Crating & Packaging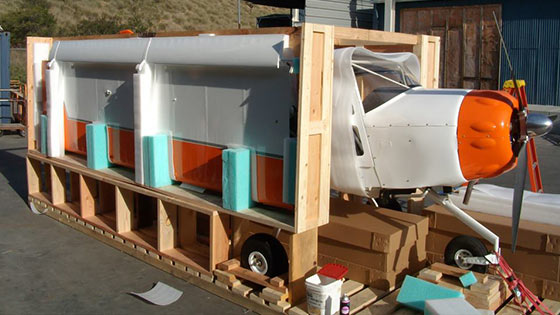 Many organizations rely on specific kinds of shipping needs. Getting oversized and bulky assets across the street, the country, or the globe takes high skill, service options, and superior logistic support. The size of the project can be small, but the detail put into it must be the same as if it were large. For instance you might need a heavy-duty wooden crate or a pallet or a skid,
Equipment manufacturers, distributors and suppliers across many industries depend on custom industrial crates and packaging, including:
Construction industry
Farming Equipment
With a variety of industries needing these services, options need to be available. Your shipping company should not over-complicate or minimize the necessary solutions. They should find the unique, optimal shipping plan for you. Whether you need a heavy-duty wooden crate, pallet, or skid, be sure your item is in good hands.
Industrial Wooden Crates in Nashville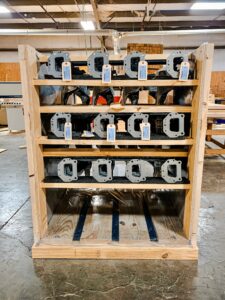 Quality matters to you, and it matters to Craters & Freighters. Our crating and shipping teams are ready to work with you. With the best industry techniques, materials, and team members, you can trust your shipments are well taken care of, and you will be, too.
If you have any questions about an industrial shipment, contact us today, and let's talk. Or complete this handy Get a Quote form and we will get ahold of you.