PURPOSE-BUILT CRATES
Expert Custom Crating Solutions
Ensure safe and secure crating, packaging and shipping of all your commercial or residential valuable items with Craters & Freighters Nashville.
No minimums and no item is too big for us.
FILL OUT THE FORM & GET A QUOTE NOW!
REQUEST A FAST, FREE QUOTE NOW OR CALL 615-777-7447.
With over 28 years of specialty crating, packaging and shipping expertise we offer:
Worldwide Reach & Logistics
65+ Locations to Serve You
Best Technology & Design Support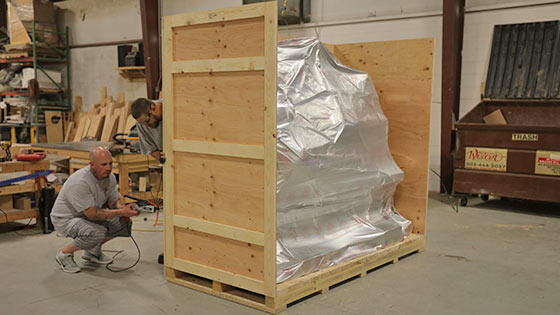 "You and your staff were absolutely awesome! Your providing me with the pictures of the unit taken during the uninstall process helped me immensely. It enabled me to hire the proper company to install the unit and will assist greatly during the reinstallation process. The level of service received by your company is above what a freight company normally provides! Also, when we had a last minute change to the ship to address, your staff accommodated the request at a reasonable price without interruption to the delivery date. Thank you for the professional, high quality service you provided." –Debbie S.
Wood Crates Designed to Meet Your Item's Needs
Inside our wood crates and boxes, you will find custom packaging, blocking and bracing. These critical elements ensure your items arrive safe, damage free, and on time.
In other words, we don't simply place your item in a crate or box. We take careful consideration into the best packaging methods available for the item
We Build Quality Crates for Items Like These and More:
Craters & Freighters' proven technique begins with a thorough assessment of your product that considers factors such as product fragility, size, and value; pickup conditions; mode of transport; environmental factors such as climate; and final destination requirements.
Each requirement is factored into the appropriate container and cushioning system for ensuring a damage free shipment— so your items arrive damage-free and on time.
Industrial Machinery
Server Racks & Electronics
Medical Equipment
Government & Military Assets
Trade Show Booths
Antiques
Art
Household Goods
Single Source Responsibility Solutions including:
We're experts at packaging, crating and shipping solutions—ready to meet all your antique crating and shipping needs.
Shipping
Delivery
Insurance
Pickup
Packaging
Crating