Fully Customized Packaging Solutions in Nashville
FULLY TAILORED SOLUTIONS
We specialize in custom packaging as well as custom crating. From designing and building a crate to meet your item's specific needs, to determining what type of cushioning material will best protect it, our in-house engineers and packaging experts at Craters & Freighters Nashville take the time to do things right.
Our custom packaging offers the highest quality of materials, wood, and supports, ensuring the safe arrival and easy entry into foreign destinations. We know that each customized crating project that comes our way is different from the one that came prior, so we never use a one-size-fits-all approach.
Craters & Freighters are leaders in the crating, packing, and shipping industry and our team takes great pride in our success stories, comprehensive custom crating and packing services, logistics excellence, and thoughtful customer service. 
Do you have an oversized, hazardous, fragile, or sentimental item that needs expertly crafted crating and shipping? We are your local Nashville, TN packaging company and will fully support your secure shipment.
We Never Take the Easy Way
You won't find your item in an oversized crate with an excessive amount of padding struggling to keep it secured. It would be easy to pack that way, but that's not how we do things.
Our first-time clients become repeat clients because they recognize that we never settle for good enough. Our goal is to provide the best crating and packaging solutions, and that's what we deliver.
We are determined to give you confidence throughout your custom crating and shipping process and we do this through a reliable, knowledgeable, and trustworthy team of experts. It takes more than quality services to be successful in the shipping industry, it also takes people who know how to give it their all when it comes to customer satisfaction. Our crating specialists will not let you down and we never back away from a challenge.
We crate and package your valuables the way we'd crate and package our own.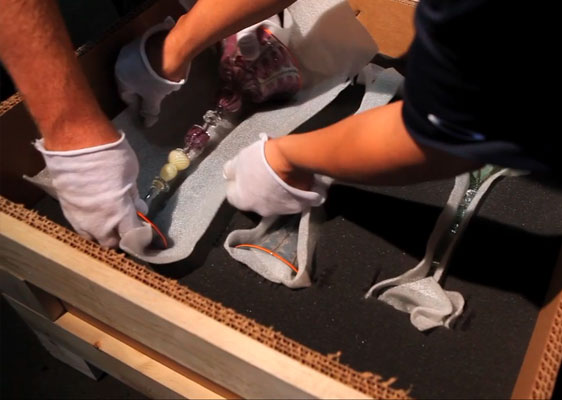 Custom Services
When looking for custom packaging services in Nashville, TN, Craters & Freighters Nashville has it all. We offer a wide range of custom packaging and custom crating services and we use only the best materials to get the job done right. Contact us at 615-777-7447 to learn more about our services, including: