Shipping or storing art can pose some obstacles. While you should never take a one-size-fits-all approach with anything, this is especially true for art shipping. Art comes in various forms, from paintings of numerous sorts to sculptures; it's imperative to use the correct packaging and crate for safe transport and storage.
This post will give you guidance on how to package your art and build a crate for it to go in so you can feel confident it will be damage-free. Let's get to it.
5 Steps to Successfully Pack Your Art Before Crating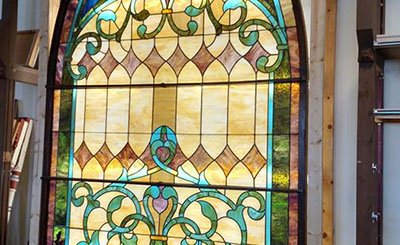 Packaging your art with intention will help ensure its safety throughout the shipping or storage process. Using a custom built wooden crate is always a good idea, as it offers protection on the outside and will allow you to tailor the internal packaging accordingly.
Your crate should be carefully measured to fit the size of your item as closely and snugly as possible, with room left for some cushioning.
Step 1
In most cases, the artwork should be upright or set on an edge for packing. Be sure not to leave the piece unattended if it can fall or be knocked off balance.
Step 2
Wrap the artwork in a non-acidic foam wrap, then, for more cushioning, add a ½" bubble wrap as an outer layer.
Step 3
Line the inside of the crate with a 1" polyethylene foam and pack the wrapped artwork inside the crate.
Step 4
Fill in all voided spaces with foam to help keep the piece in place. If it can move, it can easily become damaged, even if the crate is lined and wrapped.
Step 5
Seal the crate and, if possible, fasten it to a base that will allow the artwork to stay upright throughout the shipment.
Using high-quality materials is always smart; you don't want to take chances with your artwork, so support it as best you can with excellent packing, a container of the correct size, and optimal materials.
8 Steps to Successfully Crate Your Art for Shipping or Storage
Step 1
Measure the prepped and packaged artwork.
Step 2
Cut the material to fit the size of the artwork. In most cases, the crate should be built larger than the packaged piece to allow for inside prep.
Step 3
Assemble the plywood and lumber material, leaving one side off so you can pack the artwork into the crate.
Step 4
Line the crate with a foam material, typically a 1" polystyrene or polyethylene foam.
Step 5
Pack the prepped artwork into the crate and fill all void space with additional foam pieces to create a secure pack so the item can't move while in transport.
Step 6
Fasten the last side to the crate, then fasten the crate to your pallet.
Step 7
Weigh and label the crate.
Step 8
Prepare the paperwork for transportation and/or storage.
Shipping Art with Experience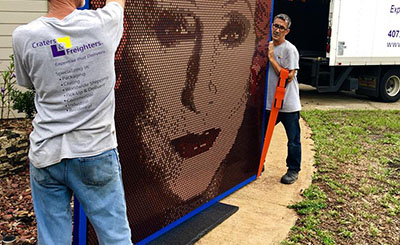 Most artwork is fragile or uniquely sensitive, so if you'd prefer to work with professional shippers, our Nashville art crating and shipping team is ready to help.
We have been fortunate to partner with many local artists, art galleries, museums, designers, auction houses, and collectors to enhance their shipping experience.
Common types of art we crate, package, and ship include:
Oil on canvas
Framed art
Sculptures and 3-D artwork
Abstract art
Hot wax paintings
Pastel and watercolor paintings
Concrete pieces
Bronze pieces
Paper mache pieces
And many others
Because there are an array of mediums when dealing with art of all kinds, it's important to use packaging materials that won't harm the piece.
We have been trusted with priceless art pieces and numerous galleries and art-related organizations, including:
Elvis Presley's golden piano
Roy Orbison's entire memorabilia collection, including the original writing of the song Pretty Woman and his sunglasses
The home furnishings and artwork of Tim McGraw and Faith Hill
Allman Brothers paintings and music equipment
The Nina Kraus Gallery
Tennessee State Museum
Country Music Hall of Fame Museum
Johnny Cash Museum
And others
Whether your piece is highly valuable, one-of-a-kind, sentimental, a collector's item, or anything else, you can trust our specialists.
Contact our team if you'd like to discuss your art shipping project. We offer various services that may be of benefit, including on-site crating and white-glove delivery. If you'd like us to build a crate per your specifications and deliver it to you so you can pack your art, we're happy to do that, too.
We invite you to request a free quote or get in touch so we can answer any questions you have. Getting your artwork properly secured for safe shipping is your priority; that makes it ours too!